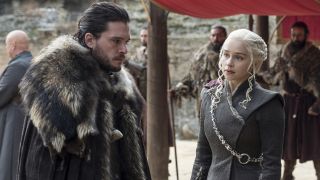 Spring – yes, spring – is coming, and it's bringing with it Game of Thrones season 8. While all focus is on winter in Westeros, your real-life calendar needs to be cleared for April 2018: because that is the confirmed Game of Thrones season 8 release date. Cancel all appointments. Postpone birthdays, weddings, and holidays. For six weeks, for one final time – or at the very least, until the Game of Thrones prequel show – the TV world is going to be owned by Thrones and Thrones alone.
Understandably, the final series of the biggest show in modern times is shrouded in secrecy, but here you'll find all the details you need ahead of the Game of Thrones season 8 premiere. The first Game of Thrones season 8 story details are below, with the opening episode delivering Daenerys and Jon to Winterfell, with Sansa not best pleased about their new 'arrangement'. You can find out when we're expecting the first Game of Thrones season 8 trailer, as well as where you'll be able to view every Game of Thrones season 8 episodes in the UK and US. A great many spoilers ahead, obviously. We're way beyond book territory now – and this time next year we'll finally know who sits on the Iron Throne after the series' most tumultuous battle of all…
Fast Facts:
Game of Thrones season 8 release date: April 2019
Game of Thrones season 8 cast: Peter Dinklage, Nikolaj Coster-Waldau, Lena Headey, Emilia Clarke, Kit Harington, Liam Cunningham, Sophie Turner, Maisie Williams, Alfie Allen, Nathalie Emmanuel, Gwendoline Christie, John Bradley, Isaac Hempstead Wright, Hannah Murray, Rory McCann, Iain Glen
Game of Thrones season 8 episodes: 6
Game of Thrones season 8 directors: David Nutter, Miguel Sapochnik, David Benioff, DB Weiss
Game of Thrones season 8 writers: Dave Hill, Bryan Cogman, David Benioff, DB Weiss
When is the Game of Thrones season 8 release date?
Game of Thrones season 7 ended well over a year ago, in August 2017, but we've still got a while to wait before we find out what happens after that Game of Thrones season 7 ending. It was reported in Metro that Maisie Williams had stated Game of Thrones season 8 release date would be in April 2019, but she's since said that her quote was taken out of context.
However, the teaser trailer unveiled in November 2018 (more on which shortly) confirms she was right all along – it is indeed coming in April 2019. And longstanding fans reckon they've pinpointed its arrival to the specific day. HBO has confirmed season 3 of True Detective will end on March 3, 2019, with season 2 of Big Little Lies then likely to fill the gap between that show and Thrones' return. If that's the case, the Game of Thrones season 8 release date is April 28, 2019. In the US, the show will be broadcast on HBO. In the UK, it'll be simulcast on both Sky Atlantic and NOW TV.
When can we expect the Game of Thrones season 8 trailer?
The first Game of Thrones season 8 trailer technically landed in November 2018 (above), but I say 'technically' because although it's definitely a teaser for the new season, it doesn't actually have any new footage in it…
Instead of delivering new footage, the Game of Thrones season 8 trailer recaps numerous show highlights across its 1:15 running time, such as Bran Stark's big fall and the deaths of Ned Stark and Joffrey Baratheon. Hashtagged #ForTheThrone, it's a more-than-suitable appetiser for next year's main event.
With regards to a trailer featuring brand-new Game of Thrones season 8 scenes, we'll probably get something during the Superbowl on February 3, 2019, which is where the hottest films and TV shows tend to air promos.
As for Game of Thrones season 8 posters, expect them to slowly release during 2019, showcasing the themes of the final season. Previous years have highlighted different aspects of the show: faces for season 6 and fire and ice for last year's cataclysmic season.
How many Game of Thrones season 8 episodes are there?
There are just six Game of Thrones season 8 episodes. Yep, that's right: six. One less than the already curtailed season 7. Given how much needs to be fitted into these episodes, that's a bit of a concern. The good news is they're all whoppers, with a run-time of longer than an hour. "Season 8 episodes will all I think be longer than 60 minutes," producer David Nutter said during a Reddit AMA. "They'll be dancing around the bigger numbers, I know that for sure."
Lending weight to this is that Jorah Mormont himself, Iain Glen, has been quoted in the Daily Express as saying: "We all sat down for the read-through of six feature-length episodes. They took longer to film, cost more, and are more surprising."
Miguel Sapochnik and his crew will be back to direct two episodes in season 8 (we know they're episodes 3 and 5). He's the guy who was responsible for Hardhome in season 5, and final episode The Winds of Winter in season 6 (which won an Emmy), so that's good. He certainly knows how to shoot an impressive action scene. Elsewhere TV veteran David Nutter (Winter is Coming, The Rains of Castermere) is back to do episodes 1, 2, and 4.
But what of the all-important final episode? Showrunners DB Weiss and David Benioff are directing that one themselves – the first time they've helmed an episode of the series… So no pressure then.
It's certainly going to be an epic finale. One battle sequence took 55 straight nights to film – more than double that of the previous biggest fight (the Battle of the Bastards, which took 25 days). That sounds fairly epic. According to a note to the cast and crew from Jonathan Quinlan, AD on season 8, it was filmed over three different locations, for 11 weeks, and "You'll never see anything like it". Sounds a lot like the final, final battle between humanity and the White Walkers…
Who is in the Game of Thrones season 8 cast?
It goes without saying that all of the (still breathing!) regular characters will be part of the Game of Thrones season 8 cast, but there will also be a smattering of new characters.
German actor Marc Rissman (The Man in the High Castle) is playing Harry Strickland. A rare character from the books that hasn't yet appeared, he's the leader of the Golden Company, expected to be fighting on the side of wicked Euron Greyjoy.
Danielle Galligan (Strangers in the Park) will be playing a character called Sarra. Digging into the books, we know of a Sarra Frey, so it seems like she's the most likely person Galligan will be portraying. The role she plays is unclear, but Galligan is trained in small arms combat, so she's probably going to be fighting (like everyone else).
The forgotten Game of Thrones characters we want back in season 8
Actress Bronte Carmichael is said to be playing "Martha" – a young northerner, though we know little else about the character yet. This is interesting because when it was stated that casting directors had been looking for a "straight-talking Northern-accented girl, someone remarkable for her dauntlessness and integrity", the speculation was that she would be playing Lyanna Stark. Could Martha just be a code-name? We also know that casting directors were looking for a boy of about 8-12 years to play someone from a poor background, which does rather suggest the young Ned Stark.
EastEnders actress Alice Nokes has been cast as Willa, a character who might be a recast version of the Wildling child seen in Game of Thrones season 5 classic Hardhome.
Interestingly, Entertainment Weekly writer James Hibberd sat in on filming of the very last episode, and asserts that "there are characters in the finale that I did not expect". Could he mean a flashback to Ned Stark? Or Joffrey? In terms of non-human characters, Ghost was also conspicuous by his absence for much of season 7. We believe Gendry survives until the climactic episode, as actor Joe Dempsie was interviewed for Hibberd's piece. "There are moments where you don't trust yourself to have this in your brain," says the one-time Skins star.
One character who surprisingly appears to be back – hurrah! – is Tormund Giantsbane. He looked to have met his maker at the end of season 7 when the wall collapsed with him on top of it, but check out this quote from David Nutter's AMA, re favourite characters: "Lena Headey [Cersei], who I worked with on the Sarah Connor Chronicles is a favourite… the cast is fantastic, there's not one bad one in the bunch. To think of the Hound, and Tormund, and all those guys this last season was just magical."
Game of Thrones season 8 spoilers hint at what will happen
HBO has gone out of its way to make sure that genuine Game of Thrones season 8 spoilers are hard to pick out from all the rumours. With fake scenes filmed, only (some) of the cast and crew know exactly what will happen. Still, here are a few things that have been revealed so far… skip this section if you don't want probable Game of Thrones season 8 spoilers!
Season 8 opens with Daenerys and her army pulling into Winterfell, in a callback to King Robert's arrival in the very first episode of Game of Thrones season 1. Sansa isn't happy about Jon bending the knee to the dragon queen, but beyond that we know… not quite nothing, but only bits and pieces, in terms of confirmed story information.
War will come to Winterfell – and the castle will burn to the ground. Some – admittedly blurry – footage of the traditional seat of the Starks in flames was captured by a camera phone.
Jaime may meet his end – and perhaps sooner than you might expect… A lawsuit involving Nikolaj Coster-Waldau and his former agent, Jill Littman and Impression Entertainment, reveals that he will be in just four episodes of Game of Thrones season 8. Of course, we don't know which four episodes those will be…
File this last one under 'possible joke – or at least we hope so'. Special effects man Steve Kullback quipped at this year's Emmys: "We can't tell you in what episode Tyrion dies…" followed by a slightly panicked. "Or doesn't!"
Everything from the Game of Thrones season 8 leak (if you want to know)
It's incredibly hard keeping the details of a popular show like Game of Thrones under wraps and unsurprisingly, a handful of pages from something purporting to be the script for season 8 have already appeared online. If you want know what the Game of Thrones season 8 leak reveals, you can find out here (not a direct link just in case you change your mind at the last second), but be warned, if the leak turns out to be correct, you might regret having it spoilt for you ahead of time.
If true, this Game of Thrones season 8 leak will be unacceptable for both HBO, the cast and crew, and all the fans. The problem is that $15 million per episode budget means a LOT of people are involved, and they're all potential sources of Game of Thrones season 8 leaks.
However, HBO is reportedly filming and scripting multiple endings to befuddle the leakers, so the Game of Thrones season 8 leak might end up being a fake. They've also gone so far as to fit their studios with technology for zapping any passing drones out of the sky, according to Sophie Turner.
Here's our Game of Thrones season 8 predictions
This is the big one, isn't it? Everyone is talking about how Game of Thrones will end – who will sit on the Iron Throne? Who will end up with who? Does it even matter? If you want to go deep down the rabbit hole of Game of Thrones theories, you can do that with our main breakdown of the best theories ahead of season 8 in the link above, but for now, here's our best Game of Thrones season 8 predictions from the editors of GR. Potential Game of Thrones season 8 spoilers ahead:
"I think Daenerys will be sat on the Iron Throne by the end of Game of Thrones season 8, but that doesn't mean everyone will get a happy ending. Jon and Dany will discover their 'family connection' and after some toing and froing decide it's not that big of a deal (if it's good enough for the Lannisters, right?), but before they can get hitched, Jon sacrifices himself to stop the Night King and his army and dies for real this time. Dany lays siege to King's Landing and as her forces (including Jaime who just wants to find Cersei and get her out) pour into the city, Cersei goes into labour and ultimately dies in childbirth (killed by her children's "little brother") with Jaime finding her just too late. Sansa becomes Queen in the North, Bran goes back north of (what's left of) The Wall to be a tree, and Arya goes off on her own spin-off adventures. Then… Dany finds out she's pregnant. BOOM. The end." Lauren O'Callaghan, Entertainment Editor 
"Game of Thrones has built its reputation on being unpredictable, and not having fairytale endings, however, I think viewer satisfaction demands some concessions for the show finale. Daenerys and Jon will defeat the White Walkers, after a pitched dragon battle and the death of so many major characters and ALL the dragons. Jon will die in battle, and Dany will rule the Seven Kingdoms with Tyrion at her side. Jaime will sacrifice himself to save Dany – protecting the Targaryen monarch and completing his character arc. Will that mean killing Cersei who intends to betray Dany? It'd be wonderfully poetic. The Hound and The Mountain will fight to the death, and Brienne will intervene and save The Hound at the end. Sansa will rule the North, with Arya at her side. Sam will end up writing 'A Song of Fire and Ice' as a chronicle of the events – essentially making him George RR Martin." Andy Hartup, Executive Editor
"The repeal of the Iron Throne, basically. Thematically, it's the only thing that makes sense. From the start, GoT has been about a progressive younger generation rejecting the factional, inward-looking, self-destructive ways of their precursors in order to deal with the bigger picture. The chase for the Throne is the ultimate symbol of The Old Ways, and the chair has only damaged anyone who has held or pursued it. Dany et al will realise the only way to win is to not play and, having dealt with the Walkers, abolish the Westerosi hierarchy as is. Oh, and Jaime will totally kill Cersei, and then probably go AWOL, rebooting his life in anonymity and leaving the Lannister name to Tyrion." Dave Houghton, Senior Writer
"First off, Jon and his damned hero complex will mean he valiantly sacrifices himself in the fight against the Night King, leaving Dany to take the throne. Cersei won't be in her way for long, as she'll miscarry her child and the loss will push her into full-blown tyranny. Jaime will be sent by the alliance fighting the White Walkers to bargain with her, but he'll end up tragically killing her as, let's face it, it's probably the only way to stop her. Arya'll become Sansa's bodyguard as the Lady of Winterfell begins to become a political powerhouse, and who will rule as Queen of the North when Dany takes the throne. And they all lived happily ever after. Kinda." Zoe Delahunty-Light, Video Presenter/Script Editor
"Obviously the big finale will be a huge, everyone vs the White Walkers battle. Probably with, a) a budget to make small countries cry, and b) tenuously levering cameos to mop up any characters that have been lost among previous seven seasons. The other almost definite thing will be a lot of people will die. So many people. I'd wager that they all get deaths befitting their lives, as well. Theon will likely go down fighting, redeeming a life of cowardice. Cersei will either get stabbed by Jaime, or torn to pieces by wights, making firm eye contact with Arya and Sansa who could help but, you know, don't want to. And so on. The only really big question no one can answer right now is Jaime Lannister – forget Jon Snow and Daenerys, his fate will be the big moment of the final season." Leon Hurley, Xbox Channel Editor
Where are the Game of Thrones season 8 locations?
Showrunners D. B. Weiss and David Benioff specifically asked for one of Game of Thrones season 7's most striking locations – Cersei's map room in King's Landing – to be an exterior location, according to the DVD commentary. "I can't tell you why," teases visual effects producer Steve Kullback.
Hmm. Our best guess? Something big goes down there during the final six episodes. Be it a nice bit of symbolism (Cersei's bloody body being draped over the map of Westeros would be an ironic touch) or an all-out battle. The exact plans for the map room were that it needed to be outside, and for whomever was down below to see above and out into the sky. The plot thickens… could Cersei spy a dragon swooping over King's Landing from her map room? It sure seems likely given what we now know about the secrets of the map room's production.
How to watch Game of Thrones online?
If you want to find out how to watch Game of Thrones online, so you can catch-up before season 8 premieres, you've come to the right place. If you're based in the US, you can sign up for HBO Now and stream all episodes of Game of Thrones – yes, all of them – for $14.99 per month. You can cancel at any time and you get one month free, so if you clear your schedule you might just be able to see all 7 seasons and pay nothing. That's 67 episodes of Game of Thrones, though…
You can also add HBO to your TV package, and most providers offer 1-3 months free viewing. However, getting out of that contract after you've signed up isn't always possible, so it'll likely cost you in repeated bills.
You might be better off buying the season 1-7 box set from Amazon, which is currently on sale at $115.99 on DVD or $119.99 on Blu-ray.
If you're in the UK, it's all on the iTunes and Google Play stores, but you're looking at £24 per season, which is very steep. Your best bet is snagging the Game of Thrones season 1-7 box set on Amazon, for a very reasonable £54.99 on DVD or £69.95 on Blu-ray, in a fancy steelbook.
Now TV and Sky Atlantic are doing recaps of Game of Thrones in the UK, but you have to play by their schedule, and it costs a fair amount to subscribe to them.
Facebook Comments