The disgraced former President of the Ghana Football Association (GFA) Kwesi Nyantakyi is reportedly saddened by his downfall.
His wife Christine-Marie Nyantakyi, has revealed to local media that her husband's "worry and bother is what the motive was; so he tried to find out from people why did they do that?
The motive for somebody planning, plotting, strategizing and executing this just to make sure he's disgraced. So that has been his pain and worry; he doesn't mind at all whatever has happened; he has taken that in good faith, but each day he keeps asking what have I done wrong?
If they wanted me out they could have found another way; but that scheming to that extent."
Christine-Marie also said that her husband paid a staggering $100,000 to stop the public airing of the investigation in which he was filmed taking bribe.
Mrs. Nyantakyi said the family became desperate when the snippets of the investigation christened 'Number12' went viral.
"So, we tried to make some interventions, and they proposed that he pays some money," Mrs. Nyantakyi told Accra based Metro TV on Tuesday 6 November.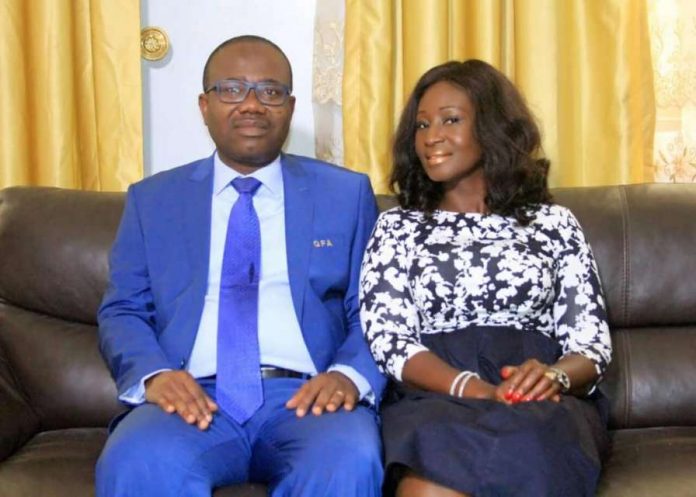 She said in her husband's desperation to suppress the screening of the investigative masterpiece by ace investigative journalist Anas Aremeyaw Anas, they approached people they believed were connected to the investigation and $150.000 was demanded of them.
"My husband couldn't afford it, so he gave out $100,000 dollars, and they came back to him and said the person says you need to add $50,000, and he said well, I don't have it; that's all that I have," said Mrs. Nyantakyyi.
The Number12 investigative piece
Mr. Nyantakyi who is a former member of FIFA's General Council was this year caught on tape negotiating a dubious sponsorship deal while demanding $15 million as bribe. He would have been $3.7million richer had the deal gone through.
The former FA boss was exposed in a documentary by investigative journalist, Anas Aremeyaw Anas detailing the level of corruption in Ghana football.
The documentary also showed football officials including referees and management official taking bribe to influence matches.
Mr. Nyantakyi was captured on the tape accepting a bribe of $65,000 to help establish an oil business in his native country.
Life time ban
Football's world governing body, FIFA on 30 October banned former Mr. Nyantakyi for life.
The ban covers all football-related activities by FIFA. FIFA says Mr. Nyantakyi violated the governing body's ethics code, including bribery and corruption
Nyantakyi was banned for life by the adjudicatory chamber of FIFA's Ethics Committee following the airing of the investigative piece..
He has however, vowed to appeal against the decision.
Facebook Comments